BOY HARSHER (USA), CHAIN OF FLOWERS + NIGHT THOUGHTS @ BUFFALO, CARDIFF
£

7.00
Sold out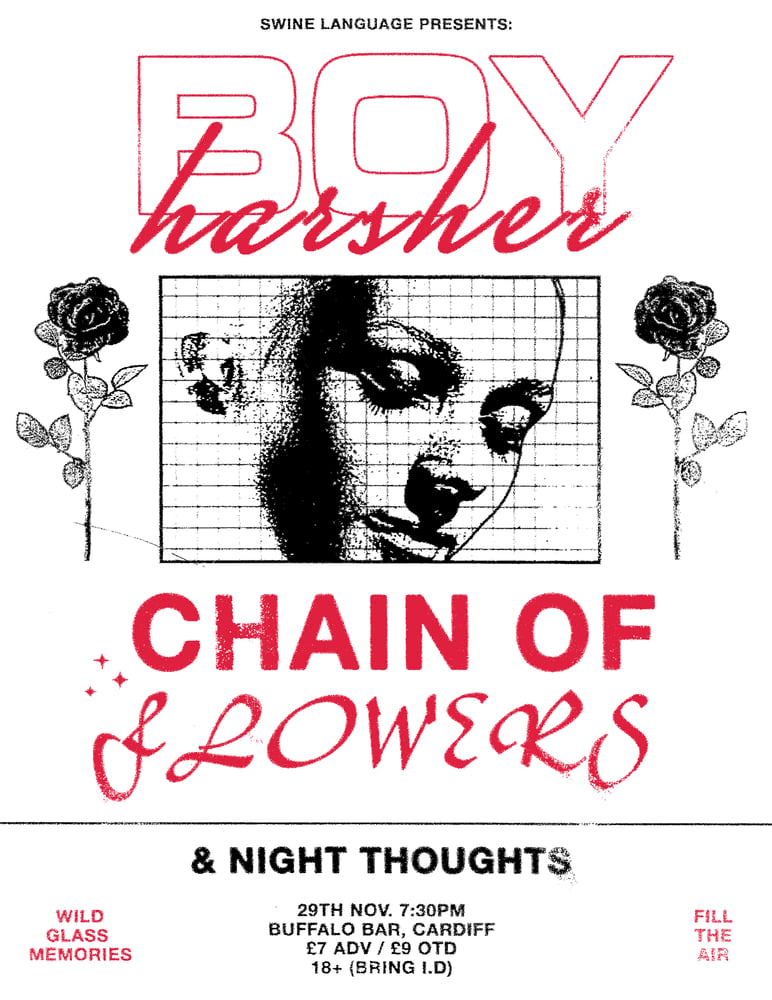 ** TICKETS WILL BE AVAILABLE ON THE DOOR **
** ADVANCE TICKETS ARE NOW SOLD OUT **
SWINE LANGUAGE PRESENTS:
BOY HARSHER (USA - ASCETIC HOUSE / DKA RECORDS)
Formed in Savannah (GA), Boy Harsher is a dark electronic duo that produces gritty dance beats infused with ethereal vocals, creating a sound that is eerie, intense and incredibly danceable. Augustus Muller develops the underbelly of sound with minimal beats and grinding synths, where Jae Matthews whispers, screams and chants on top. Together, the music created is somewhere between industrial, drone and confessional storytelling. Muller and Matthews both have a strong background in film and their cinematic approach translates effectively in both their recordings and live performance.
Their upcoming 'Country Girl' EP via Ascetic House is set for release this October and will be a sure fire record of 2017. Listen to new track 'Motion' below -
https://boyharsher.bandcamp.com
https://www.facebook.com/boyharsher
CHAIN OF FLOWERS (ALTER - CARDIFF)
www.flowersinchains.com
https://chainofflowers-alter.bandcamp.com
Fresh from recent dates opening for The Jesus & Mary Chain, now with another Cardiff show to boot.
"Chain of Flowers is a 5-piece post-punk band based in Cardiff, Wales who have been hailed as one of the finest young post-punk bands to emerge from the UK in years. Comprised of Joshua Smith (vocals), Ross Jones (guitar), Rich Clarke (drums), Daniel Anderson (bass) and Matthew Clements (synths),
Since their inception in 2012, the band has been invited to tour and perform with internationally-acclaimed acts including The Fall, The Jesus & Mary Chain, Chameleons, Ceremony, A Place To Bury Strangers, Merchandise and Eagulls on the strength of their mesmerizing live performances and superb recorded releases. CHAIN OF FLOWERS has received rave reviews as well as an unusual degree of airplay on both sides of the Atlantic (including BBC Radio 6 and KEXP in Seattle)".
NIGHT THOUGHTS (SWINE LANGUAGE - CARDIFF)
https://nightthoughts.bancamp.com/
http://swinelanguage.bigcartel.com/
New project Night Thoughts is the ice fraught outlet of Danny P and Matthew Clements. Based in Cardiff, members of Mars To Stay (RIP) and Chain of Flowers respectively push forward with emotionally cavernous yet driven cold wave, gracefully delivering this sound with the untimely bleak sway and so much more.
Over 5 tracks, 'The Complaint' demo weeps, scratches, pounds whilst glistening from beginning to end, all in an incredibly accomplished manner. There is a grey looming above you and this is its soundtrack.
* THIS IS AN 18+ EVENT, PLEASE BRING I.D.
* PLEASE BRING YOUR PROOF OF TICKET PURCHASE (EMAIL) - PRINTED OR VIA MOBILE AS NO PHYSICAL TICKET WILL BE SENT TO YOU VIA POST.