UNIFORM + THIGHPAULSANDRA @ BUFFALO, CARDIFF
£

8.00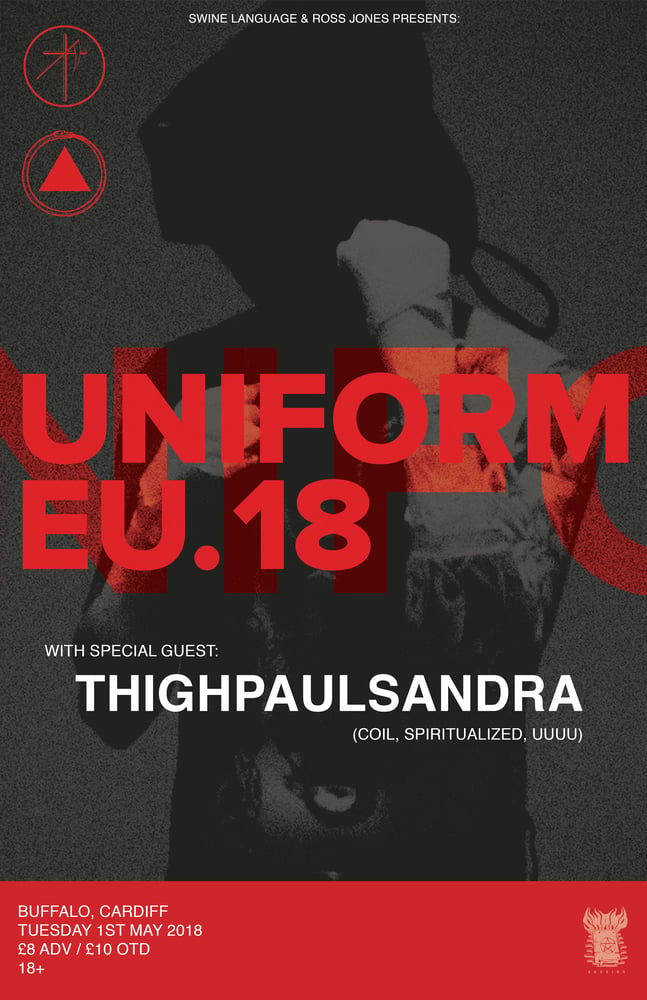 SWINE LANGUAGE & Ross Jones presents:
UNIFORM
plus special guest:
THIGHPAULSANDRA
Tuesday 1st May 2018
Buffalo, Cardiff
7:30pm // 18+
£8 advance
..........................................................
UNIFORM (NYC - Sacred Bones)
https://unifuckingform.bandcamp.com
https://www.facebook.com/uniformnewyork
Uniform return to Cardiff. They're back following the release of their raging and critically acclaimed second LP 'Wake In Fright'.
Wake in Fright, the second full-length by the New York City duo Uniform, is a harrowing exploration of self-medication, painted in the colors of war. Following the Ghosthouse 12", whose A-side Pitchfork called "their most relentless track yet," vocalist Michael Berdan and guitarist/producer Ben Greenberg return with a new batch of even more punishing songs that incorporate elements of industrial music, thrash metal, harsh noise, and power electronics.
"This record is primarily about psychic transition," Berdan explained. "The distress that these songs attempt to illustrate comes from a place of stagnation and monotony. This is what happens when old ways of thinking become exhausted and old ways of coping prove ineffective. Something must change or it will break."
THIGHPAULSANDRA (UK - COIL, SPIRITUALIZED)
https://thighpaulsandra.bandcamp.com
https://www.thighpaulsandra.co.uk
We are beyond honoured to welcome Welsh experimental musician and multi-instrumentalist Thighpaulsandra to this bill. Beyond his intrinsically arcing solo output he may be best known as a key member of both Spiritualized and industrial avant-garde greats COIL, as well as a long term collaborator with Julian Cope.
Thighpaulsandra's latest album, 'The Golden Communion' was released on Editions Mego in September 2015. Thighp is currently working on several new projects with members of Wire and Zu and also performing extensive restoration work on the Coil back catalogue with a view to future release.